Certificate Program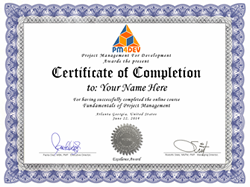 Certificate of Completion - Students who complete our courses may earn a Certificate of Completion by showing they have fulfilled all the requirements of the course. The requirements may include completion of all course lessons, a minimum passing grade on the final exam and completion of the course essay or course assignments. Each course may have additional requirements. This certificate is proof that you've successfully completed a course of study in project management; it is a valuable credential for your professional growth. You can use the certificate in your job applications or as a requirement to take higher responsibilities in your job. Your Certificate of Completion will be sent via postal mail to your home address at no extra cost.
Project Management Certification - CDPM
The PM4DEV Development Project Management Certificate provides participants with the advanced skills needed to execute complex projects. Your experience, grounded in PM4DEV practical instruction on the processes, organizational structures, and tools, ensure your project will deliver the desired results. This certificate grants you the professional credential of Certified Development Project Manager (CDPM®), which may be used on business cards and resumes. A searchable database is available on our online website to find all certified professionals who hold this credential.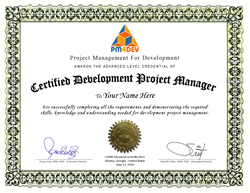 Students that complete two core courses and one elective can apply to receive the Advanced Certified Development Project Manager (CDPM®) certificate.  
CDPM Level I Three Courses Total credit hours 90 hrs. (9 CEUs) $385
Complete two mandatory courses
- FPM - Fundamentals of Project Management
- EPM - Effective Project Management
Complete the suggested elective course 
- PDME - Project Design, Monitoring, and Evaluation

 Use the code 30CDPM to obtain a 30% discount
The Expert Certified Development Project Manager (CDPM®)
CDPM Level II Four Courses Total credit hours 120 hrs. (12 CEUs) $455
Complete two mandatory courses
- APM - Adaptive Project Management
- LPM - Leadership in Project Management
Complete the suggested elective courses 
- EPM - Effective Project Management
- RBPM - Results Based Project Management

 Use the code 30CDPM to obtain a 30% discount
Last modified: Wednesday, 19 December 2018, 10:12 AM